BIOGRAPHY:
An Esoteric Artist born out of the Ohio River Valley and traveled West to find the Perfect Vortex. A combination of Fifth Dimensional Spiritual Vision and effective hand drawn illustrations and artworks. Made specifically for apparel and merchandise. With over a decade of professional experience translating mental vision into tangible manifestations for apparel companies and rock and roll merchants. Most are tools for transcendental experience. Using specific geometric patterns gathered in dreams. The specifics of the designs and their placements work as magnetic tools, stimulating the subconscious and generating an aura of esoteric energy with any who interact with it.
Support through Patreon- https://www.patreon.com/tomdenney_art
You can find out more about my live art HERE.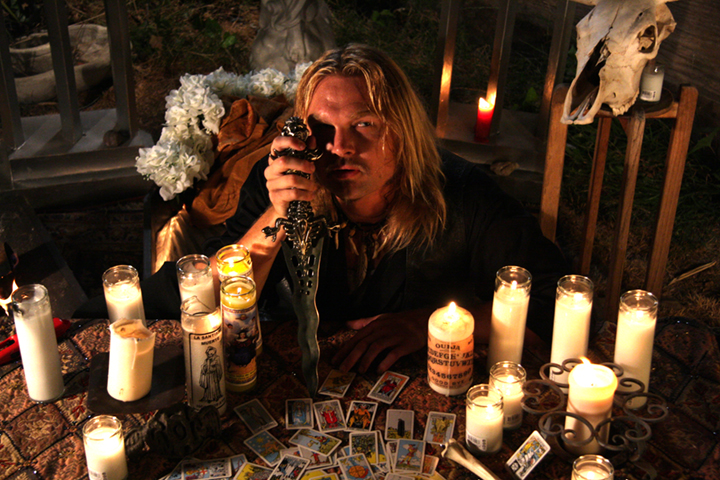 "Prog rock had Roger Dean, '80s death metal had Dan Seagrave, and now, the new wave of American heavy metal has Tom Denney, who creates some of the most intense and intricate album covers since the psychedelic '70s. Full of writhing monsters, skulls, tentacles, and voluptuous women, Denney's work harkens back to rock and roll iconography of old, but the California-based artist manages to create work that perfectly encapsulates the dirty crunch and smoke-blurred atmosphere of bands such as Lair of the Minotaur, Kylesa, Sourvein, Soilent Green, and other such bands."-Lostateminor.com
CLIENT LIST:
Hot Topic, Lip Service, Luna Jai Athletic, Urban Outfitters, Kill City Jeans. Cannibal Corpse, Soilent Green, Kylesa,St. Vitus, Yakuza, Lair of the Minotaur, Black Cobra, Coal Chamber,Devil Driver, White Chappel, Job For a Cowboy, Rue, Southern Lord Records, Deadbird, Rwake, Cephalic Carnage , Samothrace, Lesbian, Metal Blade Records,Galdr, Raise the Red Lantern, Vessel Records, Indian, Skelptarsis, Black Skies, The Destro, Mills of GOd, Sourvein, Starchild, God of Shamisen, David Wilcock, Nightmare Snowboards, Hymns, The Midnight Ghost Train, Asphyxian, The Dead See, The Funeral Pyre, Dot, Animoairy, All Shall Perish, Bullet for my Valentine, Weedeater, 7000 Dying Rats, Starchild, Mythic Apparel, Left Hand Army. MORE ABOUT MY WORK IN THE METAL COMMUNITY
OCCUPATION:
Creator of Illustrations, Graphic Design, Motion Graphics, Animation
MISSION STATEMENT:
I am working with allot of energies through my artwork. I am using symbols, shapes and colors which resonate with certain states of being. The Universal Creativity motivates me to speak a language that can only be heard by the subconscious when viewed through an open heart. These resonate images are describing higher dimensional aspects of the universe and are imbued with the key to inner knowings ancient and dormant within all selves. It is my intent to bring in these messages and energies of higher states of being for the upliftment of the viewer and the benefit of this reality. Each time we see the artwork of the higher realms it brings us closer to them and our relation ship with that motivational creativity, the voice of the universe.