I got a chance to sit down with Dj Dougpound, genius behind Tim and Eric fever dream glitch editing on this episode #153 of the Poundcast. Give a listen!
Continue reading

It is the Solstice time once again. Check out this time lapse video of my contribution to the longest day of the year, my depiction of Sophia.
Continue reading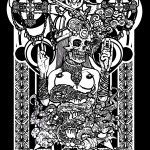 This new sticker pack features the Skeleton Woman black and white illustration on weather proof vinyl. Get multiple packs of five while supplies last.
Continue reading
Surveillance and Worship Tee available in all sizes is now available.
Continue reading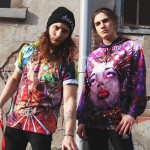 My collaboration with Set4Lyfe Apparel hosts a large store of amazing all over print hooding, leggings and tank tees. On sale for BLACK FRIDAY!
Continue reading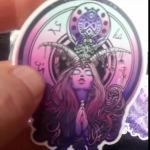 For the first time there are full color diecut stickers of the Purple Priestess. Weather proof vinyl stickers pack of 5!
Continue reading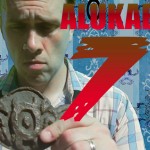 Cyphlon releases the soundtrack from the Alukab webseries. Fresh beatz for multidimensional brain meat.
Continue reading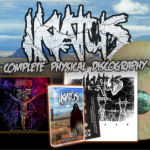 I Klatus releases complete physical discography in one package of sonic sorcery.
Continue reading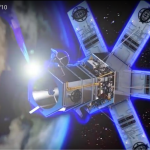 The highly visual webseries contains all new animations and songs. It is the most important thing you will ever see. This seventh installment of a ten part series comes to us now on the 7th hour of the 7th day of the 7th month, twenty years after the initial VHS tape was revealed.
Continue reading
Instagram
Please check the instagram widget has been set up correctly