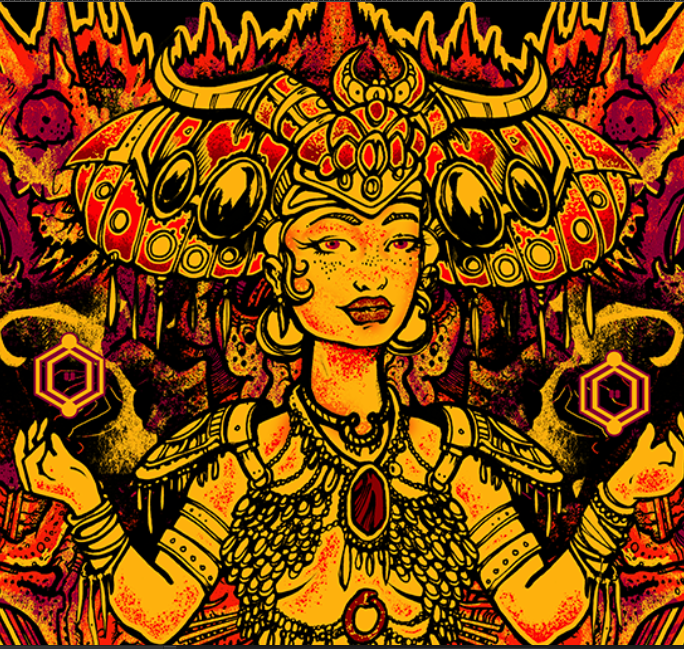 In Celebration of our passing now into Autumn, into the underworld, I have made this new 2016 Halloween Art Print. As we get ready to descend into the long darkness of winter, I wanted to mark the passing with some ritualistic artistic imagery. This is "GaiaAutumna" and she is the priestess of the passing into fall. The gatekeeper of the harvest, the portal master of the cool Samhain. This we give thanks our life breath and daily bread as we make our preparation for the winter which inevitably follows.
ORDER HERE
In very gentle ways she guides with a still small voice a whisper in the wind and angelic influence a geometric presence stringing thought patterns and synchronicity out of desire and multifaceted metaphoric missions from higher dimensional fractal functions. Between the in between, the moon on the horizon the perspective like a lens like the influence of a magnet, a physics unseen yet inescapable in its effect. That sweet kiss of destiny that destroyer seed unfurled and harvested before the frost.

"GaiaAutumna" Ritualistic Samhain Art Print is available in a variety of print formats. You can adorn any style Cell Phone with this custom case, or have an entire purse! Don't forget to check out the Pillows and Duvet covers! Canvas, Acrylic, Metallic, all styles of prints here…
ORDER HERE
Also, for the second week of October, another delicious orange color to match the fall
ORDER HERE
OCT 29 D3(0D3D 7 "HELL D3(0D3D"
TOTALLY HAPPENED! The portal was successfully opened and here are the pictures.
A NIGHT OF GOULIES, MUSIC, FIRE, EXTREME EXPERIMENTAL ENTERTAINMENT AND….ZOMBIES
BANDS
I KLATUS (First Ever LA appearance)
LOOPGOAT
PULSATING CYST
WHEREAS
PAAX (Warlords of Waal)
BANDITO OVERLORD
LAZER BLADE
DIVINE BRICK
PRTKL SMSHR
DJ BLOODCLOT
With open jams on mod bent toys, electric drumz, dijaree doo and more performers TBA (could it be you?)
Dress up and Rage.
THREE MULTIMEDIA AREAS with large format entertainment projections of macabre psychedelic visuals and sound. Official films TBA.
Bring some Trix, bring Some Treetz, rock your costume and Don't forget your favorite BYOB!!!