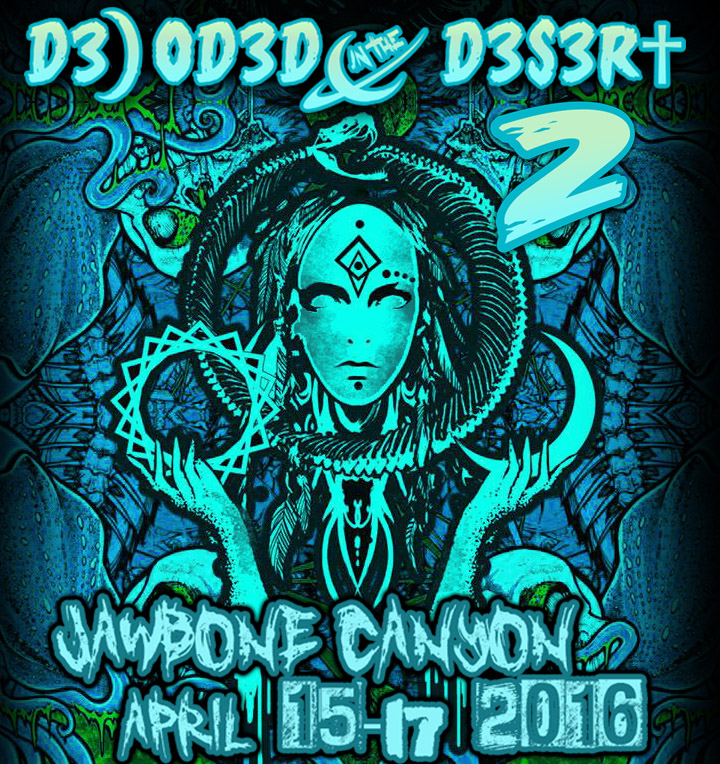 APR 15-17 is
D3C0D3D in the D3S3RT 2

Just got back from my renegade gallery interactive sonic art installation in the Mohave desert #d3c0d3d is me forcing my artwork onto nature as I use multiple overlapping high luminance projectors to temporarily impose my art onto the rock face of the desert canyon walls. The full result will be on my website soon accompanied by repetitive hypnogogic sound frequencies emitted at high decibels with portable sound wave tone generator devices. All of which was generated on the spot with out pre-recording the intent was to overlap these elements to induce psychotropic environments for psychotomimetic healing effects in a shamanic setting.
This process is called#D3C0D3D . There will be other sonic warriors, performance artists, noize tone generators, and renegade visionaries taking part of what is to be known as D3C)D3D in the D3S3R† 2
DivineBrick @ D3C)D3D in the D3S3R† 2 (4/16/16)

SOME OF WHAT WENT DOWN
Amazing Performance by ANDORKAPPEN
CYPHLON and PRESENT
Iconic LAZER BLADE

The Debut of INTENTIONAL RETROGRADE

GAYLORD FIEND & FAMILY

D3C0D3D is itself a ritual in visual and sonic rites in which the experiencer is lead into hypnogogic realms of hallucinatory vision through over lapping multi projected video and tonal tides which wash over the consciousness of the participant to allow for multidimensional decoding of subconscious thoughts and universal higher self concepts.
I have created a Renegade Gallery art installation where I projed my newest experimental video on the rock face of the canyon walls of the Mohave desert. I have been doing experimental video since i was 14, and I am taking those old films and overlapping them with my newest using multiple high luminance projectors. The result will be one of a kind and accompanied by repetitive hypnogogic sound frequencies emitted at high decibels with portable sound wave tone generator devices. The intent was to overlap these elements to induce psychotropic environments for psychotomimetic healing effects in a shamanic setting. This process is called‪#‎D3C0D3D‬ . Sonic warriors, performance artists, noize tone generators, and renegade visionaries taking part of what is to be known as D3C)D3D in the D3S3R† 2. It is THIS WEEKEND apr 15 and %100 percent free. YOU ARE ENCOURAGED to BARE WITNESS to the opening of the vortex through sight and sound far away from the wi-fi and city lights. This weekend only~ Mohave…https://www.facebook.com/events/547174938791592/574054602770292/
STAY TUNE for the NEXT D3(0D3D