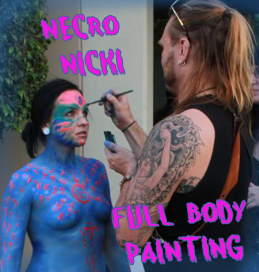 DMT "We Bring the Change"
I was hired by DMT to do the work of bringing to the world some vision of the fifth dimension. Here we see the band rocking out with my TAPESTRY designs adorning their stage. You can find out more about how you can get YOUR own awesome tapestry prints HERE.
Part of my task was to Transform the scourge of Hollywood, Miss Necro Nicki into a beautiful goddess, one of inner knowing, wisdom and peace.
Of course this was something I could achieve, with many many layers of paint.
Here we can see her becoming the warrior spirit being in the flesh. A third eye, a third dimensional avatar for some higher being channeled and represented in corporeal form.
Then She Became the godess according to my will
Then set to the duty of making her the shadow demon of nightmare and villany. Miss Necro plays this part well.
The Horrifying results haunt even my own nightmares. That terrible thing which dwells inside holds the reflection of the devils eyes.
The final keys to perception, gateways and messages from beyond transforming and liberating the mind of mortal man. The time is now.

Life imitates art …if you have the will to apply it
behind the scenes, my New Tapestry reacts to UV lighting in some surprising ways. Check it out—

Had a total blast working with everyone on this awesome video!
www.DMTmetal.com
www.Facebook.com/DMTmusic
Video Edited by: Lord Zane
http://www.facebook.com/Lor…
Model and goddess: Necro Nicki
http://www.Necronicki.org
Get YOUR own prints similar to what you saw in the DMT music video…Available for a limited time 5 different designs.