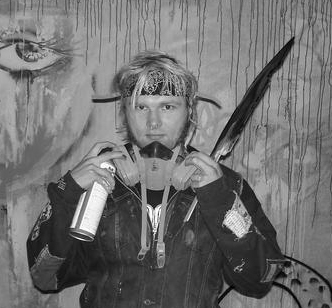 Visionary Director David Becker brought me on board to paint the set of his Pho-Black Metal Desert Rock doomchick band psychedelic travel witchy sisterhood film MIRK RIDERS.
The idea was to create a seedy, abusive alcohol alley aesthetic where the girls in the band have their back stage encounter with the drug crazed club owner.

The goal was to make it look aged and decrepit.
Here is Jaimie Bernadette wearing my hoodie on the finished Set

Here is Dave shooting his masterpiece

An actual scene from the movie
On set with the cast and crew including Dan Buran and Jim VanBebber (quite an experience being on set with Van Bebber) Also Victoria Taylor (No Taboo) And Joe Boscoe of the Bottle Chain, and the Damage Done
Check out DavidBeckers's"MIRK RIDERS"