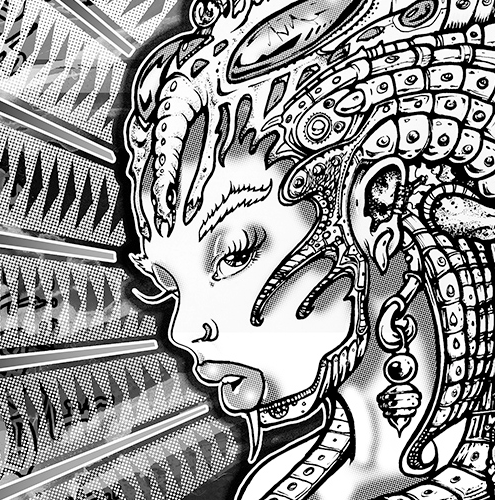 Every new project starts with a vague idea in the mind, a pencil sketch. A roughly hewn treatment which with time, energy and rendering evolves into a clear picture which comes more and more into focus with every stage of development. This is how the idea starts for me.
From the pencil it goes on the light board where I ink using Micron Pens.
 Then some digital aspects for the finished image.
In this case I decided to keep an old black and white comic book vibe.  I ad some geometry to symbolize energy flow. My fifth dimensional geometric patterns are all inspired by and in direct symbolic reference to pranic energy flow, which I see in dreams and sometimes in waking vision.
I have allot of these patterns which you can look at on my pinterest Just looking at the patterns can trigger some subconscious effect. Some may induce mild euphoria or sensations of pressure on the crown or forehead.
Look close! You can buy prints of this image HERE
Whats with all the weird animations that I have been posting on my INSTAGRAM?
Its all a preview for the new NAGUAL SUN riffs. Check these riffs out in person at the next SHOW FEB 27.
The visuals are a brief glimpse at a new short film project called INTENTIONAL RETROGRADE
What is Intentional Retrograde? It is an experimental short film about
The Breath Giver and the battle with the Ocean Shadow…


Guess your going to have to find out more updates when you subscribe to…
PLANET CYPHLON
I also have been working with Lindsay Hearts on her new line of black leather with black metal graphics. Most of what we are doing was inspired by this design I did for Lip Service…which I don't think you can get this anymore.
Immense Blackened Ritualz of the Night, like this …
"SORCERESS of SATURN"
This is the final exclusive design I did for LINDSAY HEARTS

"Lilith of the Wood"
This blackened spawn of evil will raise the death chill in any spine when confronted in its many print forms. From tee shirts to brew satchels this touch of blackened voodoo from the depths of the darkest forrest is sure to enchant and destroy. Find out how you can get yours for free at
Lindsay Heart's Kickstarter-
You can get one of EXCLUSIVE art prints on shirt or evil tote by becoming a backer to Lindsays Leather Launch. Its totally worth it, check out her rad video which tells you more.
LINDSAY HEARTS and I talk about this project and show off my new Paintings~

Check out Lindsay's AWESOME KICKSTARTER .
Find out more-http://lindsayhearts.com

CYPHLON now has a SOUNDCLOUD which is updated with gnarly sonic like this~

You can find me at ART TEMPLE at a series of live art/music events this summer 2015.
Stay up for more info. Serenity Gathering for certain.
Matrix Glitch shows up in plain view-Do you remember the Berenstein Bears, the bears from the books and 80z animated series?
No you don't! Apparently there is no evidence that it was anything other than the BerenSTAIN Bear.
Which means someone changed the timeline in some way and as the authors of the popular children's books say that it was always that way. So why do so many people "Remember" it. But try to find any physical evidence. Like me, I spent allot of time as a child remembering to pronounce Berenstein bears correctly that it engraved itself in my memory. We are in the future, time travel is already happening, now we can start to see some evidence into its rippling effects on everything except our memory.
Here is more evidence that we are LIVING IN THE FUTURE-