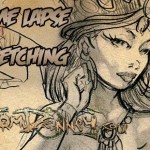 Check out this time lapse video of sketchbook drawings coming to life, also with prints available.
Continue reading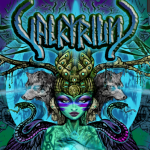 Secret details of my newest art pieces along with time lapse video. Watch the time lapse of this new art unfold. Also, news about upcoming events where I will be doing live art and visual performance!
Continue reading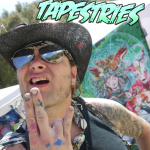 The new tapestries are arrived! Decorate your sacred space with these visionary full size wall prints.
Continue reading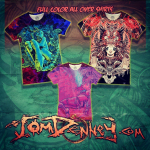 Fresh off the press~New art work in these full all over print shirts for men and women. See the process from pencil sketchbook drawings to form fitting fashions and apparel.
Continue reading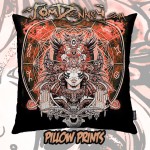 I now have phenomenally soft PILLOW PRINTS. These psychedelic head props will decorate your home and inspire the landscapes of your dreams.
Continue reading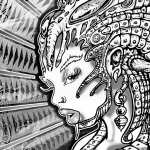 New Projects, including the "Intentional Retrograde" short film, my Collaboration with Lindsay Hearts, new Nagual Sun and upcoming live art performances.
Continue reading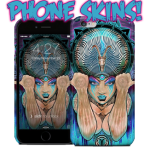 I have teamed up with Nuvango to offer you phone skins, cases and wraps for a variety of electronic devices as well as prints of some of my most transdimensional alchemical artworks. I am really pleased to present this buffet of imagery for your eyes to feed upon.
Continue reading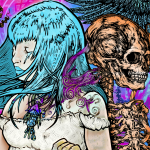 Santos is an old school illustrator known for his work with legendary doom bands like Grief and Noothgrush and Torche. Together He and I collaborated on a piece of art which is now available as a limited full color sublimated BLANKET PRINT on soft Terry Cloth Blanket
Continue reading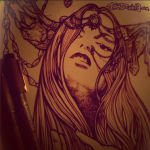 Metaphysical Higher Dimensional Quantum soul Integration through creative output, images! Also links to my new instagram https://instagram.com/tomdenney_art/
Continue reading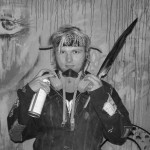 Painting the set of David Becker's controversial Pho-Black Metal short film "MIRK RIDERS", The Mirk Riders is a movie about what you can't escape. Seen through the eyes and memory of band leader, Eve, as she leads her coven through a psychotropic paganistic drug fueled romp across the desert after their last show of their tour.
Continue reading
Instagram
Please check the instagram widget has been set up correctly