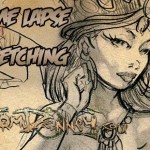 Check out this time lapse video of sketchbook drawings coming to life, also with prints available.
Continue reading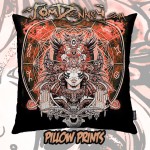 I now have phenomenally soft PILLOW PRINTS. These psychedelic head props will decorate your home and inspire the landscapes of your dreams.
Continue reading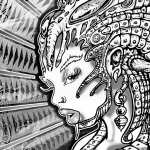 New Projects, including the "Intentional Retrograde" short film, my Collaboration with Lindsay Hearts, new Nagual Sun and upcoming live art performances.
Continue reading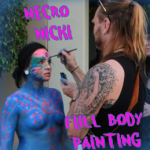 I had the task of making Necro Nicki into a transdimensional goddess/demon for the new DMT music video "We Bring the Change". Check out the video witch features my tapestries and full body makeup art.
Continue reading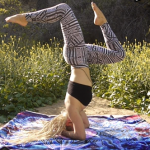 Now I have MEDITATIONAL BLANKETS which contain geometrical patterns specifically designed to accommodate all of your prostration requirements.
Continue reading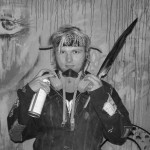 Painting the set of David Becker's controversial Pho-Black Metal short film "MIRK RIDERS", The Mirk Riders is a movie about what you can't escape. Seen through the eyes and memory of band leader, Eve, as she leads her coven through a psychotropic paganistic drug fueled romp across the desert after their last show of their tour.
Continue reading
New art work for the power house trio rolling out the riffs from the depths of ancient Kansas. See their newest design go from pencil sketch to finished monstrosity.
Continue reading
Instagram
Please check the instagram widget has been set up correctly